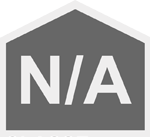 2 Houses near Roquetes
Reference: 0214
2 Houses near Roquetes
2 houses on one plot. Both still require certain work to be habitableas both still need to be completed.
The large house dates from 2005, was built by a professional construction company, but was never completed for a living. It has no internal division, no tiles, water pipes and cables, but already modern, double-glazed windows with shutters. The future buyer is free to design the house according to his personal wishes.
The small house is the older one, which has existed for more than 30 years. It is designed in 2 levels with 1 room each. The living area downstairs and a mezzanine upstairs for sleeping. After some installation work it could be converted into an occasional guest house.
In addition to delivering water by truck or collecting rainwater, it is also possible to drill a well. The area is known for underground water. Several neighbors already have their wells. The cost is estimated at approximately € 10,000.
The plantation consists of olive and carob trees.
Access is via a very good country road and an approx. 500 m long sandy path that is only accessible to residents.
Reference
0214
Location
Catalunya/TGN, Roquetes 43520, Parellades
Category
Country House
Ribbon
Price Reduction !!!
Condition
Renovation needed
Type of View
Mountain View !!!
Usable area
90sq m
Type of Business
Sale
Bedrooms
3
Number of Floors
1
Construction Year
2005
Property area
19524sq m
Total Area
100sq m
Price


95.000€

79.500€
---