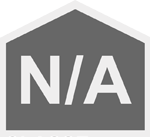 Piso with parking in Roquetes
Reference: 4012
Piso with parking in Roquetes
Comfortable, modestly sized apartment in perfect condition on the top floor with views of the mountains, Roquetes and Tortosa.
It is equipped with a strong security entrance door, a hallway leading to the storage room and the living-dining room. From the dining room you reach the open kitchen and through a door you enter a corridor that leads to the bedrooms and the bathroom.
One of the two bedrooms is a double and the other is a single. The bathroom is equipped with a shower, toilet, bidet, sink and cupboards. The kitchen is installed with built-in cupboards, sink, electric stove with oven and additional water heater, energy-saving on the wall between kitchen and bathroom. The hot water tank in the storage room was switched off.
The three north-facing windows were problematic with north winds, even though they are double-glazed. The blinds wobbled in these windy conditions and would not let you sleep, so other windows, also double-glazed, were placed in front of them. This eliminated the noise of the blinds and the thermal bridge. There is now much more insulation than before and so the energy saving is now around 50%. In addition, you hardly hear the traffic.
The hot and cold water pump had its pre-installation by the builder for all rooms on the floor. The owner has now installed the necessary equipment to maintain a comfortable temperature. With consumption in mind, an energy-saving device was installed that works with less than 1 kw/h.
The underground car park has an electric gate that works with a remote control. The parking space belonging to the apartment is almost double the size and allows to park a large car, a motorbike and 3 bikes on the floor or two motorbikes and the bikes on the wall.
There is also a large swimming pool but attached to the ground floor bar which is not currently operational. So unfortunately we cannot enjoy the pool at the moment.
Reference
4012
Location
Catalunya/TGN, Roquetes 43520
Category
Flat
Condition
Impeccable
Type of View
Mountain View !!!
Usable area
56sq m
Type of Business
Sale
Bedrooms
2
Bathrooms
1
Number of Floors
3
Floor Number
3
Construction Year
2010
Total Area
69sq m
Price
75.000€
---